Learn Your Life's Purpose — Words From A Dragonslayer
Attaining clarity of self can enable us to live our most productive lives while maintaining contentment at each stage.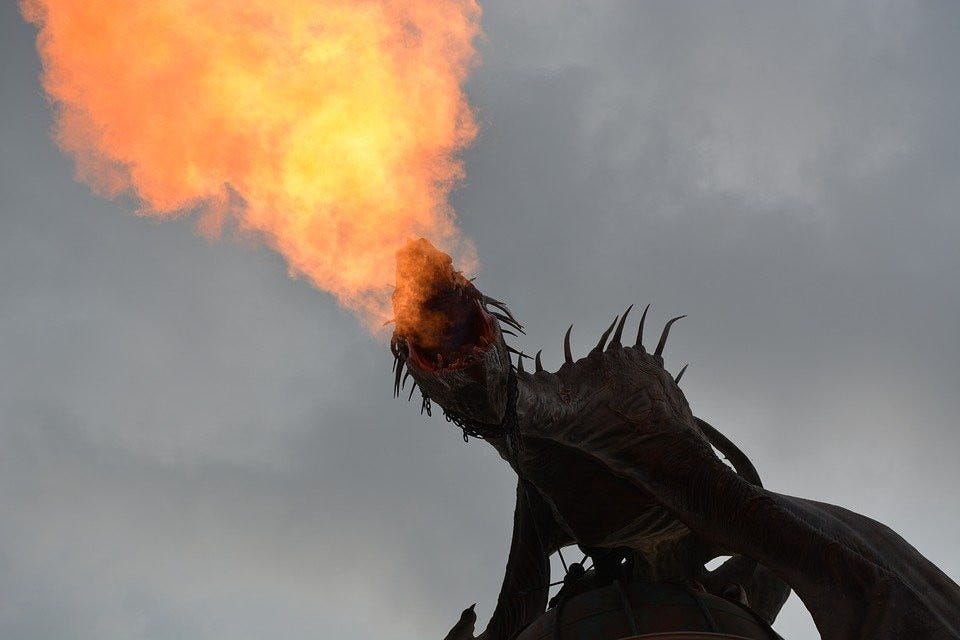 I am a dragonslayer.
As my father before me, I have traveled the world. I have gone from town to town, looking to assist those who are stuck in the terrible shadow of the winged serpent.
Countless times, I have arrived along a cobbled road, my steed's hooves clunking, slowing announcing my arrival. And countless times I have seen elders, women, children, rushing to my side, crying, desperate for help.
I have seen the horrors of a dragon's deeds. Burned homes, families screaming within. Churches crushed, patrons with no escape. I have heard the regular demands of human sacrifice. I have seen the cattle snatched from fields, commoners left starving in the wake.
And so I came. I offered my services. In return, I asked for housing, food, and compensation, though I rarely demanded or denied service in the lack thereof.
And then I performed.
With great stealth, I snuck into caves, into lairs. I crept closer and closer to the sleeping dragon, and with my strong spear arm, I exploded forward. I plunged my spear deep into the heart of the beast.
I granted the terrible dragon a swift death, something he hadn't bothered giving to his victims, many of whom had been women, children, the sick, the poor — the most vulnerable — all succumbing to his hellfire.
Again and again, I carried out my deed. Nothing in life gave me greater satisfaction than this act. It gave finality to those who survived. It gave peace to those who deserved it. It ended suffering. It gave me purpose.
For decades I traveled, offering my services, living the life I was meant to live.
And then, a fateful day arrived.
I came upon the worst I'd ever encountered. The village was in cinders. Half of the populace was deceased. The needless crimes of the dragon were on full display. He had been angered at the village's refusal to offer further human sacrifice. And his anger left no illusions as to what he was capable of.
And so I went to his cave — and did as I had done many times before.
And little did I know — he was an endling. He was the last of his kind. I had killed the last dragon.
What should have been a time of celebration, became a period of great discontent. I found myself without purpose.
How could I, a dragonslayer, be happy in a world without dragons?
I had done many great deeds. I had made great fortunes looting the caves of dragons. I had done it all.
And yet here I was - lost.
---
The great realization came as I sat in a green field, watching clouds roll across wind-torn peaks.
I was never a dragonslayer.
I was a protector. Slaying dragons was merely part of that purpose.
My satisfaction came not from plunging spears through winged beasts, but from the looks of relief on locals' faces, from knowing I had brought an end to their suffering, knowing I had granted safety to those who needed it most.
I was a protector— meant to guard those in need. I was the shepherd to the sheep, the answer to the wolves' howl. Slaying dragons was merely part of a day's work, of which gold and accolades were only a perk.
And thus I resumed my purpose as a protector, as there were things to be done in that role. There will always be those who are weak. And there will always be those who prey upon the weak. And thus, I continued living as I was meant to live.
And so I turn to you and I ask,
What are you? Not who. What?
Are you fulfilling your life's purpose? Do your goals align with what you are? Will they give you the things you need for greater contentment?
What gives us purpose is knowing what we are. And make no mistake — you are something. Our goals are merely stepping stones in becoming that something.
Some day you may slay that big terrible dragon. Your heroics may grant you those shiny objects that we place so much value upon. But you may find yourself holding those objects, staring at them wondering,
"How could these things have glowed so bright in my mind for so long, only to sit so dull in my hands now that I have finally acquired them?"
You will be left to reconcile what you were really meant to do. Like so many before you, you will feel lost and disappointed. But it doesn't have to be that way.
If you know what you are, you'll be able to enjoy those things and continue living with a greater purpose.
If your goals serve the purpose of giving you more control of your life, of manifesting your talents, and above all — if you are enjoying the journey, you will not be left wondering. You will know. You are on the path you were meant to be on.
Goals, accomplishments, setbacks, triumphs and every event in between, are all simply dots on a life lived as your true self — not destinations, not endpoints.
I am a nurturer.
I am a worker.
I am a problem solver.
I am a helper.
I am a lover.
I am a warrior.
I am a seeker.
I am a healer.
I am a thinker.
I am an explorer.
Do you know what you are? Look within and find that answer.
Once you do — everything else will fall into place. You will have success as you define it. Your failures will lose much of their sting. You will become your life's purpose without all the erratic highs and lows.
You will have clarity — and it will grant more power than any shiny object ever could. Your legacy will be complete.
I thought I was a dragonslayer.
But really I was a protector.
And so I ask again,
What are you?
And what will you do when you slay your last dragon?
Enjoy this? Subscribe for more.